Now-hubby recently joined the ranks of sexy singles in his area on OkCupid. He's been messaging with a few interesting ladies. So far, nothing has manifested into meeting in person, date-type scenarios, but I'm sure I'll be kept in-loop if anything of that nature occurs.
The German has had a lady geographically significantly closer to him mention meeting up. He asked my opinion on it, to which I said if he was actually interested in the girl he should go for it.
One of my biggest insecurities in anything is abandonment. It goes a shade beyond the, "
you'll find somebody better than me
" mind-fuckery to, "you'll find somebody else and completely abandon me." It's not just the idea of "
better
" anymore. Said other person could be completely outside any comparison; the actual hurt comes when the person I was originally involved with stops interacting with me completely. The original person and I don't even have to have been in any type of significant relationship. I've had plenty of purely platonic friends disappear off the face of the earth as soon as they find "the one," and that fucking sucks.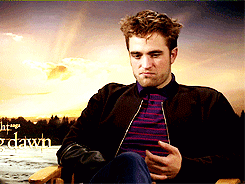 Given a slightly more significant relationship with people, the possibility for abandonment becomes more crystalline and exponentially more frightening. It sucks when somebody I'm friends with becomes completely unavailable because of their new relationship. I imagine my heart would literally melt out onto the floor if somebody significant to me became unavailable because of a new relationship.
(Also, I don't know what's up with me and the Robert Pattinson gifs right now.)
However, this was a pretty significant point for me when I imagined how my eventual relationships were going to work. Yes, I was going to fuck slash possibly become romantically involved with other people, but my partner was going to have the exact same opportunity to do those things as well. I feel you can live a poly relationship where only one partner is "practicing poly," but to have a relationship where one person is specifically hindered from exploring other relationships is total bunk. So I had to prepare my heart for possible melting and hope that I would communicate enough and meet people awesome enough to communicate back to me. So far, so good.